Table of Contents
From chapter to chapter, the novel follows the travels of Louis and Gabriela throughout Cuba and the Caribbean during a time of war.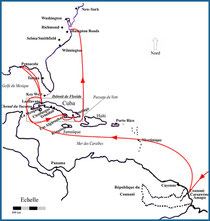 1. Remember the Maine! [Read Chapter 1]
2. The Némésis
3. Three Movements of the French Tricolor
4. There'll Be a Hot Time on the Nemesis, Tonight
5. The Graduate
6. Atlantic Freshwater
7. The Carsawene [Read Chapter 7]
8. The Amapa "War"
9. Adze and Brace at Low Tide
10. An Explosives Maker in the Caribbean
11. A Hot Time in the Old Town
12. The Ylang-Ylang Chamber
13. It Warms the Blood
14. Joaquin's Coffin
15. You Can't Fight a War with Candy!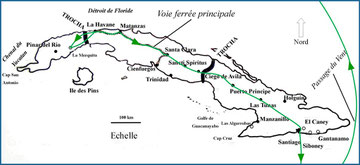 16. Tell Mr. Aurelien I'm Gone
17. The Sinking of the Maine
18. Candice
19. Cabana's Dungeons
20. Filibustero
21. Jeremy, You're Alive!
22. Escape
23. Flight
24. With the Mambi Army
25. Blessed Be The Torch!
26. In Santiago's Net
27. Gussie's Expedition
28. The Marines at Guantanamo [Read Chapter 28]
29. A Splendid Little War
30. We Won't Survive a New Victory
31. The Careening
32. Snow Falling on Coffee Trees
33. To Battle! Now!
34. Death of a Fleet
35. Mother, Gabriela… or Candice ?
36. Journalism That Acts
37. Hampton Roads, Virginia